I have an iMac. I am one of those converted PC folks. My work computer used to be a Window machine and I thought it was great, as I love all things electronic. But then I got my 27 inch iMac
and I am now a Mac person at work and a PC person at home. I can't convince my husband that "Because I want one!" is a good enough reason to abandon my perfectly good PC laptop for a new MacBook Pro. So for now one of my favorite things is this wonderful Mac sitting on my desk at work.
It looks just like this one.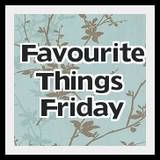 Come join us at Favourite Things Friday. Thanks Shay for hosting this linky party.