It has been several weeks since I posted. I mean too, and then the day gets away from me. I have started back with my early morning gym visits and meal planning. It takes time to exercise and eat right,
but it is so worth it. I feel better, and have more energy. I am trying to make it a habit. It is amazing how the bad things become a habit so easily and doing things that are good for you takes such effort.
But enough about that, I have a new granddaughter. Her name is Eliyah, and she was born on April 22nd and weighed 8lbs 10oz. I haven't gotten to hold her, but I think I am going to have to go to Missouri soon. In case you couldn't tell from my blog and my previous posts. My grandchildren are my favorite thing.
Want to share your favorite thing. Join us at "Favorite Things Friday" and post a link to your favorite things. Thanks
Shay
for hosting this link party.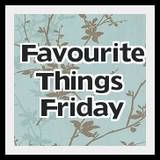 I am working on some stitchery projects. I will probably have some pictures this weekend. Have a great weekend.

Janice