Today my favorite thing is also one of my obsessions. I am so obsessed with quilting and sewing gadgets, tools, and storage for my quilting stuff. Because creating takes so much stuff, right? I am always on the lookout for something that make my sewing easier.
Today is about my love of stitchery. I love redwork, bluework and any other type of embroidery. My favorite thing today is my newly purchased, ( Maybe my husband will not read my blog today) traveling embroidery satchel. It is just beautiful. I love the floral print outside. I love the straps that allow me to hang it up or carry it. I love that I can put the floss colors that I need in it and pockets for scissors, thimbles, needles and backgrounds. It is great and I love it.
Thanks to Shay at "Quilting in My Pajamas" for this opportunity to link up.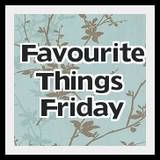 Janice